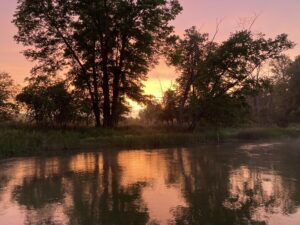 Premier Angling Guide Service is located in Brethren, Michigan in the heart of the fish filled rivers, lakes and streams of the Manistee National Forest. We are just minutes away from all the boat ramps to the Manistee River, Pine River, Bear Creek and Little Manistee and within 35 minutes from the World Famous Pere Marquette River.
Here at Premier Angling we are a Fly Fishing & Light Spin Tackle Guide Service that specializes in the pursuit of Steelhead, King Salmon, Brown Trout, Smallmouth Bass and Pike. Another technique we use is Centerpin Float Fishing for Steelhead and King Salmon. Although we call the Big Manistee River "Home," we also enjoy guiding and fishing on the Pere Marquette, Pine, Little Manistee and Upper sections of the Manistee River, as well as Bear Creek and the area's local lakes.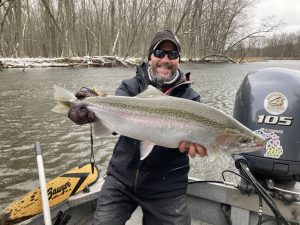 Capt. Larry Raney, Owner/Guide of Premier Angling Guide Service, is Licensed and Insured, Federal and State permitted. I have 35 years of experience in the area and 22 years as a Michigan Fishing Guide on all the areas rivers, streams and inland lakes. I also enjoy guiding upland bird hunts in the fall and Turkeys in the spring. I am truly blessed to make a living as a Full-Time Guide.
Not only are we doing what we love, we also enjoy meeting new people and creating lasting friendships with our clients. Our goal is to provide you with a quality experience and for you to enjoy the finest fly fishing & spin fishing for, Steelhead, King Salmon, Brown Trout, Smallmouth Bass and Pike that Northern Michigan has to offer. We want you to experience the fishing trip of a lifetime, one that you will not soon forget.
Nick Homan, Guide, Nick grew up in Mancelona, Mi where he learned from his grandfather at the age of 13 how to hunt and fish. Ever since then he has had a strong passion for Michigan's woods and waters. Over the years he has worked hard at perfecting his techniques and officially became a professional guide in the Spring of 2007.
He demonstrates a strong passion for fly fishing but is also very experienced when it comes to applying other techniques that we use to catch the fish you are after. When Nick isn't on the river fishing he enjoys taking clients bird hunting accompanied by his two bird dogs Sage and Ruffy. Nick brought his experience and talents to Premier Angling Guide Service in the Spring of 2019 and we are glad to have him here at Premier!!!
Jake Williamson, Guide, Jake grew up in Alma, Mi where he spent his childhood learning how to hunt and fish from his dad. His dad took Jake on his first steelhead trip when he was ten and ever since then he was hooked! He has dedicated a lot of his teen's and early twenties learning how to Steelhead and Salmon fish!
Although he loves to go catch these beautiful exotic fish, Jake says his true passion when guiding is being able to share his knowledge and excitement, as well as seeing the joy on others faces when landing a Salmon and Steelhead! He is very thankful for this opportunity with Premier Angling and is very thankful to do what he loves to do! Jake started with us in Fall of 2021, he also guides in Alaska July through August at Katmai Lodge and we are happy to have him join our team with Premier Angling!!
Michigan's Steelhead, Salmon, Trout & Smallmouth Bass at it's Finest!!
"This guide service is an equal opportunity provider and is operated under special use permit with the Huron-Manistee National Forests"