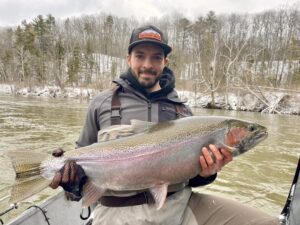 STEELHEAD: Fall Steelhead fishing on the Big Manistee River usually gets going around the third week of September, and it steadily improves as Fall goes on. Techniques we use early on are bottom bouncing with fly rods & spinning gear and swinging wet flies with Spey and Switch Rods. These hard-charging Steelhead readily come to all techniques. The Fall Steelhead are more aggressive than any other time of the year. As the Fall goes on and water temperature starts to drop, we switch techniques to Centerpin Float Fishing, float fishing with fly rods and bobber fishing with spinning gear. That stays the norm from November on. We target Steelhead in our area about eight months out of the year with good results. The rivers we do our guided fly fishing & spin fishing for Steelhead are on the Big Manistee, Bear Creek, Little Manistee and the Pere Marquette. Peak times are late-February through April in the Spring and late-September through December in the Fall.

SALMON: King Salmon start showing up in the Big Manistee around mid-August, and are very chrome, hot and aggressive. Early on we fish low-light times of the day, typically the first 4 hours in the morning and the last 4 hours in the evening. As August ends and September starts, the days get shorter, the air gets cooler and the water temperatures start to drop. We then begin seeing a greater number of King Salmon, so we fish from daylight until mid-afternoon. The techniques we use for King Salmon are crank baits (sticks) with light spinning gear, Streamer fishing with fly rods and float fishing with bobbers and skein. If you have never tried these techniques, they are definitely something you should do, those who have, experienced the pulse-pounding joy of King Salmon fishing at its best. Peak times for Salmon are late-August through early-October.
TROUT: The Brown Trout fishing in our area, in my opinion, is top-notch. The Brown Trout season usually begins about the time we wind down the Spring Steelhead season. Early on the Brown Trout are thriving on Steelhead eggs and Salmon and Steelhead fry. The Brown Trout are very chunky and aggressive this time of the year. We start the season off by swinging Steelhead and Salmon fry patterns with floating lines and ease into the streamer and light spin tackle fishing in late-April through May. May is a great month because the Brown Trout fishing is at its peak, and it is also the start of our fly hatches. It's a great time for either hardcore streamer and gear anglers or anglers who like to chase bugs. June is the month during which we employ many different techniques, anything from streamer fishing to light spin tackle with crankbaits and spinners, dry fly fishing to nymphing or swinging wet flies with floating lines. July and August are hopper months, there is nothing like fishing big rubber-legged dry flies to willing Brown Trout. Rivers we fly fish & spin fish for Brown Trout are the Big Manistee, above and below Tippy Dam, the Pine, the Pere Marquette and the Little Manistee. Times of the year for trout are late-April through September.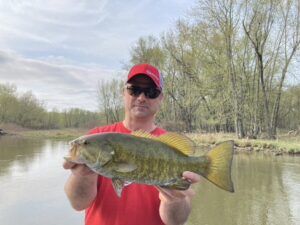 SMALLMOUTH BASS: We usually start looking for Smallmouth Bass sometime around late-May to early-June, typically above the dams (back waters) and on inland lakes in our area. As the water temperatures reach to high-50's to low-60's, it is "game on." These Smallmouth Bass are very aggressive and very willing to come to just about anything. Most days its top water action in the mornings and streamer and crank baits as the day brightens. As the waters warm in our lakes, we start chasing Smallmouth Bass in the river systems, floating downstream and beating the riverbanks and log jams with streamers, crank baits and poppers eagerly awaiting aggressive Smallmouth Bass to engulf your offering. Pound-for-pound, Smallmouth Bass fight like no other fresh-water fish. If you never fished for Smallmouth Bass on a fly, it should be on your list of things to do. If this sounds like something you would like to do, the best months for guided Smallmouth Bass fly fishing or spin fishing are June, July and August. We fish for Smallmouth Bass on the area lakes and the Manistee River above and below Tippy Dam.
"This guide service is an equal opportunity provider and is operated under special use permit with the Huron-Manistee National Forests"