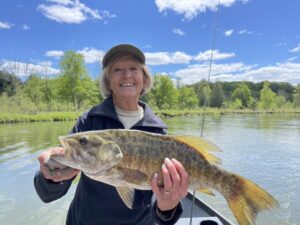 Smallmouth Bass (Micropterus dolomite)
Identifying characteristics: two dorsal fins with spinous and soft-rayed portions united, body longer than deep, jaw extends to the middle of the eye, bronze streaks in cheek.
Michigan boasts good populations of both largemouth bass and smallmouth bass statewide, though as you travel northward, smallmouth bass are the dominant species. Largemouth bass are more often associated with shallow, weedier bodies of water or reservoirs with standing timber, while smallmouth bass are more closely linked to rocky habitat and rivers. Both however can be caught from the same bodies of water and often from the same general areas.
Smallmouth bass move shallow in the spring to spawn usually when water temps reach 60 degrees and are easily located and enticed into biting before they go on the beds. After spawning, bass typically move out to deeper water, though there are almost always some bass in shallow water, usually associated with cover such as weed beds, fallen timber, log jams and rocks.
Perhaps America's top game fish, smallmouth bass are known for their spirited fight making them one of the most enjoyable catches for any angler. They can be caught with a wide range of artificial lures. Bass fishermen typically cast all manner of lures, from topwater plugs (jigs or plastic worms), swim baits, spoons or spinner baits. Similarly, smallmouth bass can be taken on all types of flies, with fly fishermen often using streamers that imitate minnows or crayfish to take them subsurface and a variety of top water poppers and foam bodied bugs to catch them on the surface.
Michigan's Great Lakes and connecting water ways have excellent smallmouth population. Many of the lakes across the Northern Lower Peninsula offer outstanding smallmouth bass fishing, as do many of the rivers of Northern Michigan. Many of the drowned river mouths along Lake Michigan, weedy backwaters of all the Great lakes, and most Northern inland lakes and rivers have good populations of both largemouth and smallmouth bass.
Smallmouth bass mature at age three or four, and occasionally live to be 10 to 12 years old. The usual smallmouth bass seen by anglers is 8 to 15 inches long and weighs less than three pounds, but they are capable of reaching upward of five to six pounds in waters with adequate food and habitat.