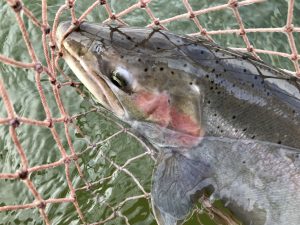 February 21st
The fishing here on the Big Manistee has been pretty good this past week with new fish entering the system every day. We got hit with a bunch of rain on Monday and Tuesday so the flows went through the roof overnight but hopefully with the temps dropping back down below freezing at night and staying just above during the day it slows down the run off so the river don't go out on us. There are a good number of fish in the system at this time and they are not only in certain sections of the river. The last few days we've fished from Tippy well below Rainbow Bend and there seems to be about the same amount of fish no matter where you go, which is a beautiful thing. We have been catching a good mixture of Steelhead- blushed up males, chrome hens and a few skippers also so whats not to like? Things are looking good for the Spring, Thank God!!! The weather is a bit like a roller coaster for the next week but the floats have been dropping so we will just have to deal with it. We have primarily been fishing floats with center pins or casting rods using natural to milked out colored beads and spawn to get the Steelhead throughout the day. Trout fishing has slowed down a bit but it's not impossible to get them, stripping streamers slow or nymphing for the fly fishermen and small jerk baits fished slow for the gear junkies, and don't be surprised if you have a Steelhead climb on also. If you would like to get out and enjoy a full day or 1/2 day of fishing on the Big Manistee or Pere Marquette give us a call and come on up. The enclosures are on the boats and heaters are on so don't let the weather be a factor. We are taking bookings for Spring Steelhead trips at this time and things are starting to fill so if you have a day or days in mind give me a call so we can get you on the water. If you would like to view more pictures check us out on Facebook @ Premier Angling Guide Service. Tight Lines & High Fives!!!
Manistee River Below Tippy Dam
The flows below Tippy are 2960 cfs and the water temps are 34-35 degrees. Water temps are steady, flows are up and the clarity is clear for now throughout the system. For the wade fisherman, the fishing above and below the coffer and down stream to the bottom of Suicide Bend has been good for Trout, Steelhead. Load your vest with all the tricks, Beads, spawn, various nymphs, spinners, small crank baits also jigs and wax worms to help you get it done. Think about the future of our fishery guys if you don't need them then put them back. Help protect the resource!! Have fun and be safe, Bent rods and tight lines!!!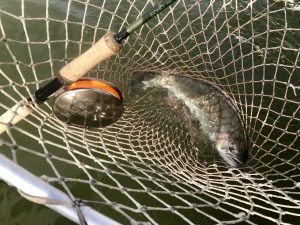 To check flows and water temps on our local rivers, please click on the USGS links below:
Manistee River below Tippy Dam   
Manistee River below Hodenpyle Dam
Click above for the weather forecast
"This guide service is an equal opportunity provider and is operated under special use permit with the Huron-Manistee National Forests"