May 25th
 We hope everyone had a great Memorial Day weekend!!! Prayers for good health to you and your families and hope everyone is staying healthy and safe!!!! Things are starting to look a little better in the world and WE ARE BACK IN BUSINESS, THANK GOD!!!  There are rules that we have to follow such as social distancing, use of hand sanitizer and PPE. When using our drift boats we can only take 1 angler, 2 anglers in our jet boats and cannot provide lunch but we can live with all of that. Lets not forget things are better, this stuff is not gone so we can't let our guard down. We have been out Turkey hunting and out fishing on our own but it's time to get back at it!!! We have been on the Pere Marquette, Little Man and the Big man since we have been able to start guiding again and the Brown Trout fishing has been pretty good on all three rivers!!!! Water clarity and flows are good to go again after being blown out from last weeks rain. The fish have been happy along with all the customers and everybody has been so happy to get out and clear their heads. It's been all about Streamers and crank baits on the PM and Little river while the Big river has a lot going on. The guys I had today caught browns swinging salmon and steelhead fry with fly gear along with mixing it up a bit and getting them on crankbaits. Nick was up there as well and his guys stuck with fly gear and got it done swinging fry and caddis dry's so all is good!!!  The water temps are warming and the Brown Trout fishing has been pretty good for the trout anglers on the Manistee below Tippy. Streamers fished slow as well as swinging fry and dry flies will help the fly angler bring some fish to hand and jerk baits along with spinners will help the gear guys get it done. We are in full trout mode and Thankful to be back on the rivers so if you would like to get out for a full or half day on the Big Manistee, Pere Marquette, Little Manistee or Upper Manistee please give us a shout. We are taking bookings for Summer Brown Trout, Smallmouth Bass and Pike trips at this time. Stay safe and healthy!!!! If you would like to view more pictures check us out on Facebook @ Premier Angling Guide Service. Tight Lines & High Fives!!! 
Manistee River Below Tippy Dam
The flows below Tippy are 2290 cfs and the water temps are 59-60 degrees. For the wade fisherman, the fishing above and below the coffer and down stream to the bottom of Suicide Bend has been ok for Trout and Steelhead. Load your vest with all the tricks, Streamers, beads and various nymphs for the fly angler, crank baits and spinners for the spin fisherman for Brown Trout. Spawn, beads and nymphs as well as jigs and wax worms for Steelhead will all help you get it done. Think about the future of our fishery guys if you don't need them then put them back. Help protect the resource!! Have fun and be safe, Bent rods and tight lines!!!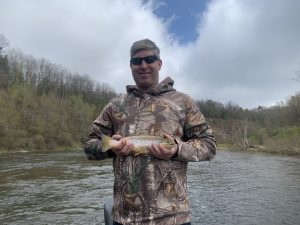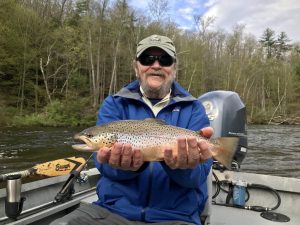 To check flows and water temps on our local rivers, please click on the USGS links below:
Manistee River below Tippy Dam   
Manistee River below Hodenpyle Dam
Click above for the weather forecast
"This guide service is an equal opportunity provider and is operated under special use permit with the Huron-Manistee National Forests"