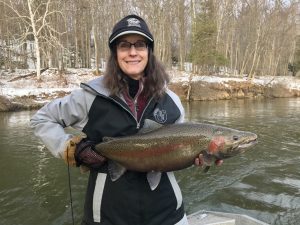 February 26th
Winter Steelhead fishing is in full affect here on the Big Manistee. The weather and the fishing we have had this past couple of weeks has been pretty good!!! Kinda weird being on the river in February and being able to fish the whole river system without worrying about parts of it being froze or shelf ice floating around everywhere, but it is quite nice. The Steelhead fishing has been fairly consistent in any section you want to fish. Lake Michigan water temps have cooled down to match the river temps so fishing should stay fairly consistent the rest of the winter and into the Spring. Most of the Steelhead we have been catching this past week have been colored up males with a few bright hens and skippers mixed in. So we do have some here that have been around a while along with the new comers. The bites have been coming quick so covering water has been key!!!! We have primarily been fishing floats due to cold water temps and conditions we have been having. Most of the Steelhead we have been catching are in slow woody winter type runs and it's been pretty much all about a bead, natural to milked out colors or a combination of both have been best but also hitting a fish or 2 on spawn. The water temps are cold so the Brown Trout fishing has been slow on the Manistee below Tippy. Streamers fished slow and nymphing beads will help the fly angler bring a few fish to hand and jerk baits along with spinners will help the gear guys get it done and don't be surprised if you have a Steelhead climb on. Things are ok and the weather man is showing steady temps this week so if you are looking to get out for a full or half day on the Big Manistee or Pere Marquette give us a shout before our next blast of cold. We are taking bookings for Spring Steelhead trips at this time and if you really want to mix it up try a Chukar hunt out at Thundering Aspens after a morning of fishing!!! Winter Steelhead time is here the enclosures are on the boats and the heaters will be on, look for warming trends or just give us a call so we can get you on the books!!!! Spring Steelhead fishing is not far off so if you have dates in mind reserve them now so you don't miss out. If you would like to view more pictures check us out on Facebook @ Premier Angling Guide Service. Tight Lines & High Fives!!!
Manistee River Below Tippy Dam
The flows below Tippy are 1950 cfs and the water temps are 35-36 degrees. For the wade fisherman, the fishing above and below the coffer and down stream to the bottom of Suicide Bend has been ok for Trout and Steelhead. Load your vest with all the tricks, Streamers, beads and various nymphs for the fly angler, crank baits and spinners for the spin fisherman for Trout. Spawn, beads and nymphs as well as jigs and wax worms for Steelhead will all help you get it done. Think about the future of our fishery guys if you don't need them then put them back. Help protect the resource!! Have fun and be safe, Bent rods and tight lines!!!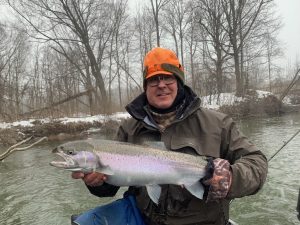 To check flows and water temps on our local rivers, please click on the USGS links below:
Manistee River below Tippy Dam   
Manistee River below Hodenpyle Dam
Click above for the weather forecast
"This guide service is an equal opportunity provider and is operated under special use permit with the Huron-Manistee National Forests"